Posts tagged
use
0
Since I had a Windows Server 2008 x64 Virtual Machine configured in my VMware Workstation and a Product Key from MSDN that I didn't use I decided to try one of the cool features Server 2008 brings to a wide variety of new and even some old motherboards out there. I'm talking about its "Hot-add-Memory" feature.
So as I start this Virtual Machine up I have it configured with 1024MB (or 1GB) of RAM (click on image for original):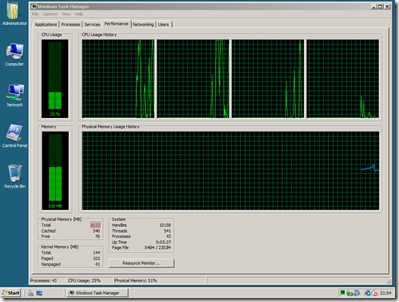 And now I want to expand this Server's RAM without having to restart the whole system. I honestly don't know if that's that common of a use case out there in the real world but nevertheless it's something that's possible technology-wise and I think Linux has had it far earlier than Windows so here goes: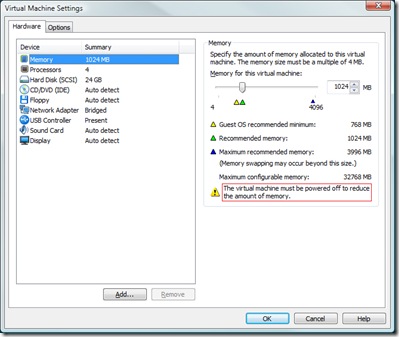 Hot-Swapping RAM is something that's also included in more expensive versions of Server 2008 (like Datacenter) but in the Enterprise version which we have here all we can do is expand the RAM, not reduce it (see red box). So I pull the slider up to 2048 MB (or 2GB) to double my RAM and click "OK".
What happened then wasn't entirely what I was hoping for. VMware Workstation saved the Virtual Machine's state first, then the Screen went black for a second and then it came back immediately and everything was exactly as I left it, so I guess this was just a precaution of VMware rather than something that was absolutely necessary. Then it took another few seconds for Windows to recognize the additional RAM and this was what I ended up with: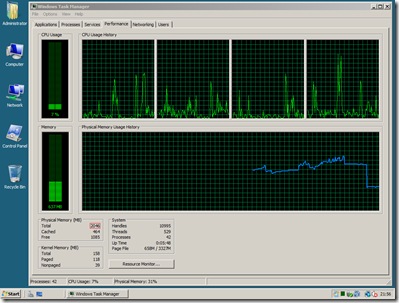 As you can tell from the red boxes in the first and the last picture (and the immense drop of the blue curve in the last picture) the RAM has been added without any shutdown of the system.
For Companies who need this, Windows Server 2008 Enterprise is definitely not too expensive to buy although it could be cheaper of course. This feature is not exclusive to the latest and greatest hardware either so the additional cost in hardware shouldn't be too high either. Contrary to a Linux Server it offers an Administrator the possibility of deploying Microsoft Exchange Services natively and it enables them to install the wide variety of Software that's out there for Windows.