Posts tagged
Touch
0
Microsoft has recently announced a "Touch Mouse" at the CES-Conference which is going to be primarily focused on bringing Touch-Features to Windows 7 (who'd have thought that). It's going to be released Mid-2011 for about 80€ (so I guess around 90$ in the US) and here's what it looks like: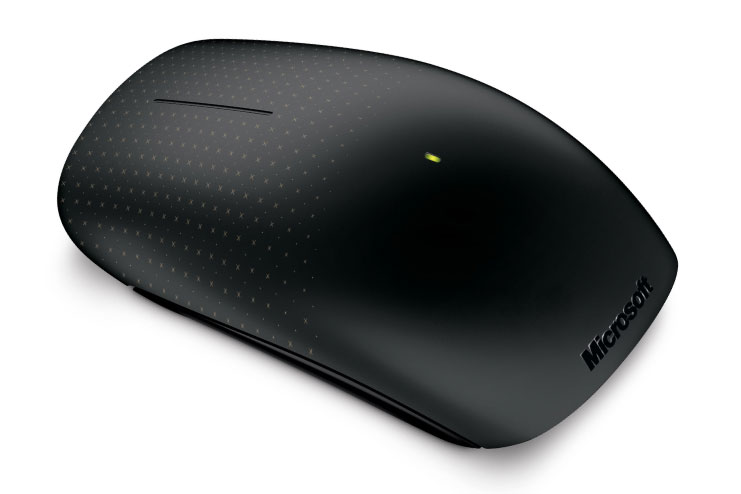 The first thing I thought was that this really seems like a well-designed piece of hardware. Something I don't recall seeing from Microsoft in a while now, leaving Kinect aside. Because in my humble opinion, it's not even about designing something that everybody loves to look at but just putting enough effort into the design of a product that it does not look like it's cheaper than its internal specifications make it worth.
Best example for that: No one even remotely cared about the fact that the first generation iPhone had no 3G-Functionality, no regular Bluetooth, no regular Audio-Jack and things like that which we had already gotten used to from Smartphones around it. Its selling-point was all about the Multitouch and its looks basically.
So my basic message here is that even if this "Touch Mouse" from Microsoft doesn't out-perform similar products that came before it, it still might out-sell them if it becomes something that people just want to have sitting on their desk.
0
Without finding nor providing an excuse for my absence around here I think I have gathered enough things to talk about to fill a blog entry once again after some weeks of hard work on multiple school projects.

Yesterday I came to the realization that I don't even have to buy any additional hardware in order to be able to use the Time Machine feature of my MacBook. Since I bought my Network Attached Storage I had a 500GB USB Storage laying around with nothing to do. At first I tried to modify Time Machine in order to be able to use it as a Network Storage although it isn't a Time Capsule from Apple. After a variety of weird Error Messages (which seem to be one of the reasons why Apple only supports their own Time Capsules) I decided to connect it via USB.
It works like a charm. Time Machine backs up to this Storage hourly whenever it is connected while the MacBook is not on battery operation. It keeps those hourly backups for the last 24 hours and lowers them to daily updates for the last 7 days accordingly. Furthermore it keeps weekly updates of my files until there is no storage left. So to retrieve a lost file or file-state one opens a Finder (=Explorer) Window and directs it to where you once had your file the way you want it to have now. You launch Time Machine and it takes the Finder Window on a journey to the past. You specify the Date you want to go back to and the contents of the Window will change to what they have been like at that time.
So whenever my MacBook is connected to the Storage those backups will be made regularly and I can make those journeys to the past.
To switch to another topic, something I wanted to talk about in my Blog for a long time now is how satisfied I am with the way the new Multi-Touch Trackpads from Apple work.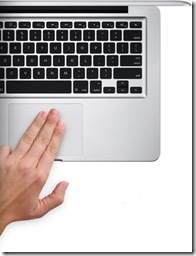 Since the introduction of the Multi-Touch concept by Apple with the iPhone this has proven to be a hit among customers looking for ways to interact with their hardware more intuitively. And it has proven my conviction wrong that touch-pads cannot be a tool for a serious workflow on a mobile computer.
With this Trackpad I do not feel the need of grabbing a hold of my Mouse on every occasion.
I do not feel hindered by technology when working with it. It has size and it doesn't recognize the accidental touch as a click like many others do and it does not have a dedicated Click-Button since it itself is the button which you can press down on which I think is way more intuitive than having your own click-button when most people just want to click on the touchpad itself anyways.
Whenever someone uses it for the first time they stumble across the problem that clicking and holding down on the Trackpad while dragging a scrollbar across the screen can be rather annoying. What they do not know of course is that its primary intent isn't that at all. Since it can receive multiple inputs you can for example right-click when clicking with two fingers or scroll while sliding across with two fingers. In supported applications the possibilities are even higher in number. You can pinch and zoom in iPhoto. You can use a 4-finger swipe to get to your desktop or to Exposé (a grid of all open windows). You can use 3 fingers to go through an iPhoto Album.
Of course every application can implement their own functionalities for these, which means that sooner or later there will be even more advantages for users of this Trackpad since they are now being built into every mobile Mac Apple ships.
So this entry has been very Apple-based but this should just go to show that although I believe to be very critical of what companies like Apple do these days (because I absolutely don't think their philosophy is better than anyone else's) I can't help being astonished by their way of thinking once in a while.
Have a nice weekend
0
When I first saw the device I was pretty surprised by its slick design and the overall appearance. It's got everything you'd expect from a Smartphone with Windows Mobile on it but because I don't know too many details about past iPAQ devices it was very easy for me to point out a few flaws about this device.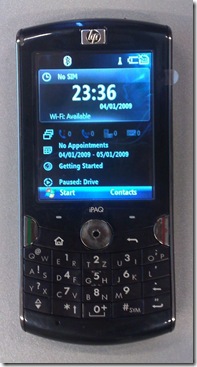 Things hardcore-iPAQ users might not be surprised by.
The Lock-System, in my eyes, is impossible to understand for someone who's new to this. I locked the device with the Lock-Button (see picture 2) and it always took me forever to unlock it again because what the screen told me to do wasn't understandable.
The Button for taking photographs was almost non-pressable. It did not move a bit. But I guess this wasn't the way it was supposed to be shipped.
Finding out that the 2 "Buttons" next to the iPAQ Logo (see right) are in fact buttons might be hard to find out for some. Because they are Touch-Sensitive and do not move at all.
Turning the old numeric-keyboard system upside down by having just a few more buttons and arrange the letters on them in a QUERT-Layout might be a risky idea by HP because although you have 2 letters on most buttons it does not make a difference if you push the left or right half of a button.
Just like the Data Messenger this device has a micro-USB connector for both data-synchronization and recharging, and it has a 2.5mm rather than a 3.5mm audio-out which I see as much market for as the audio-connector of the first iPhone which required a converter for connecting regular headphones. micro-USB might be a standard of the future which might seem annoying for now but 2.5mm audio has been around for ages and it just never caught on. Why should it do so now?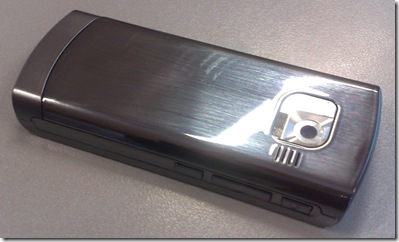 Conclusion:
Of course all I've been talking about now were negative factors of this mobile device. It sure has its upsides as well. If someone asked me whether to buy this device I would ask them what they were looking for. If you want to listen to music on your mobile phone this sure isn't the way to go. If you want your mobile phone to have a wide variety of installable programs and if you want it to look good this will surely do the job. Since I don't know any specific facts about the pricing I can't tell you how good your wallet might feel in the process of buying it.
The reason why I decided to concentrate on the negative aspects I experienced within 15 minutes of basic usage of the phone is because I think this is what others can get the most profit out of. If someone buys a device without knowing what he will be confronted with immediately after, they might turn out non-satisfied buyers.
For a Review of its big brother, the Data Messenger, stay tuned till tomorrow. I think I might go a little bit into more detail with this one since it's a more complex device.