Posts tagged
something
0
Microsoft has recently announced a "Touch Mouse" at the CES-Conference which is going to be primarily focused on bringing Touch-Features to Windows 7 (who'd have thought that). It's going to be released Mid-2011 for about 80€ (so I guess around 90$ in the US) and here's what it looks like: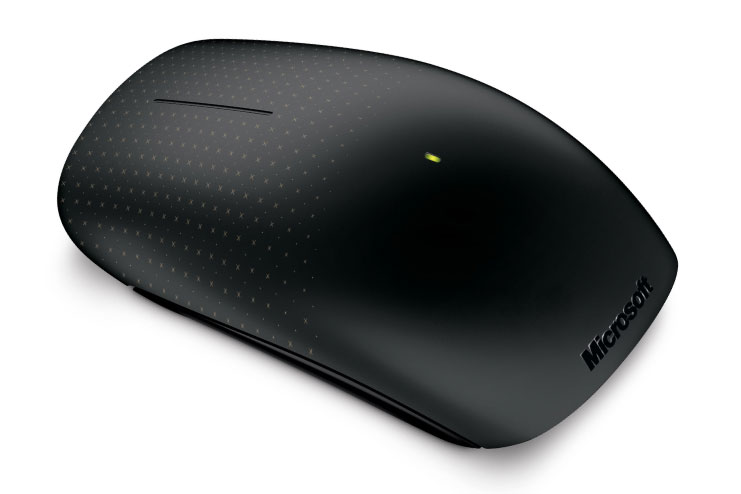 The first thing I thought was that this really seems like a well-designed piece of hardware. Something I don't recall seeing from Microsoft in a while now, leaving Kinect aside. Because in my humble opinion, it's not even about designing something that everybody loves to look at but just putting enough effort into the design of a product that it does not look like it's cheaper than its internal specifications make it worth.
Best example for that: No one even remotely cared about the fact that the first generation iPhone had no 3G-Functionality, no regular Bluetooth, no regular Audio-Jack and things like that which we had already gotten used to from Smartphones around it. Its selling-point was all about the Multitouch and its looks basically.
So my basic message here is that even if this "Touch Mouse" from Microsoft doesn't out-perform similar products that came before it, it still might out-sell them if it becomes something that people just want to have sitting on their desk.
0
Some dark days are ahead of us my friends.
As I have now already read from multiple sources the US Federal Communications Commission (or FCC) has recently passed what many Enthusiasts fearfully call the Net Neutrality Act. For those of you who don't know what this is:
Network Neutrality is the basic principle that describes the access to a network (on the Internet) for all of its users as being neutral. It indicates that everyone has the same Level of Access to a certain Network's Contents. That nothing gets Priority over something else or is taken out entirely.
This principle has hereby been broken for Users accessing the Internet over Cellular Networks in the U.S.A. From now on, Providers can help themselves to a better Quality of Service by for example downgrading the priority of Skype Traffic or even charging extra Money for it. While it is true that Skype Phonecalls aside other things use a lot of traffic and are therefore a Bandwidth-Killer for Celltowers I simply can't believe this is seen as the Solution. If the Structure of a Network gives in to the Demands of its Users the Provider has to make sure that the Structure is improved in my Eyes.
This Article from Dial-A-Phone sums up the basic Problem of this Approach even further. The Net Neutrality Act allegedly doesn't even restrict the Providers from shutting down certain Services entirely.
Some dark days are ahead of us my friends.
Link Summary
0
After being spoiled the outcome of Game 7 of the Stanley Cup Finals by the Facebook-Group "Hockey" before being able to get my hands on a decent quality video of the Game I did my best to watch it as if I hadn't known.
Check out the links on the bottom to see where I get the Games in High Definition.
I don't recall posting anything about hockey in particular on this blog before so to clear that up: I follow and watch the ongoings of the National Hockey League a lot throughout the seasons so it feels natural for me to post something about how this one ended.
The Final Series between the Pittsburgh Penguins and the Detroit Red Wings was a quite exciting one to watch and definately worthy of its meaning to Hockey Players and Fans around the globe. I found that a lot of players from both teams rose to stardom in this series, for me at least, while some others who already had high expectations upon their shoulders disappointed. The one example that comes to my mind immediately is Evgeni Malkin from the Pittsburgh Penguins who took a very poor attempt at being a Difference Maker at some occasions. As a positive example I think of guys like Jordan Staal with the consistency he brought to the table as an offensive playmaker and Maxime Talbot especially in the last game with his scoring touch.
The Consmite Trophy for Most Valuable Player then went to previously mentioned Evgeni Malkin who I think doesn't deserve this because he doesn't provide leadership and isn't someone young players should look up to with his aggressive behavior towards opposing players. What I also think is that he didn't cherish being given the Trophy enough. No respect for the honor. If you look back at former MVPs like Mark Messier or Mario Lemieux you just don't see any of those important aspects in Malkin that separate an MVP from the rest. Of course in all fairness I have to admit that he has been performing great for his team. But as I said, this should not be the only thing people look at when they look for an MVP.
This might sound like I was in favor of Sidney Crosby being given this award but that's not the case. I wouldn't give it to him either. To be honest I don't know a better alternative in particular but I am sure that this Penguins Team has someone to offer who met the standards during the season and during the Playoffs.
What gave me the idea of writing this article in the first place is something entirely different. When I watched the game I noticed some Detroit Fans between the Sideview Camera and the Ice who behaved an awful lot like Soccer Fans. And I mean that in a bad way. There's a difference between respectful confrontation with an opponent and pure hatred for an enemy. The latter might not have been exactly the case here but it is in many soccer games and it's the big reason why a lot of people don't like the sport of soccer or at least don't like to attend its matchups. And I can't help but see a trend of Hockey-Hooligans emerge.
As much as the sport itself is tough and as much as it enables the players to express their feelings physically I was always surprised how fearlessly people in favor of away-teams could attend NHL Games. And I think that it's very important to not have to fear being threatened even verbally when attending something like a Sports event.
When the Pittsburgh Penguins were handed the Cup on Friday Night in Detroit there was little or no cheering. Instead there was booing and because of that I was surprised that so many people had stayed after the game in the first place.
So my basic thought here is that if Hockey Fans overall are moving towards loathing another team even if (and because) their team has just been beaten, I don't see any reasons why there shouldn't be the first Hooligans within a few years, given that the sport itself keeps gaining popularity like it did so far. Of course I hope that my speculations are wrong and that this has just been a bad example of how to handle a Stanley Cup Final situation.
To sum it all up I have to say that the NHL Season behind us was another one worth watching especially with all the post-season tension that showed the viewers how much better even the best players in the world can become when being given a goal like winning Lord Stanley's Cup.
Links: nhl.com – nhltorrents.co.uk
Link Summary