Posts tagged
Mobile
2
Nachdem ich diesen Blog jetzt eine Zeit lang außen vorgelassen habe, habe ich mir gedacht es wäre wieder mal Zeit für einen Eintrag. Und als ob das nicht genug wäre habe ich mir auch gleich eingebildet wieder einmal einen deutschen Eintrag zu verfassen.
In gewisser Weise als Herausforderung an mich selbst, um zu sehen wie sehr ich der deutschen Grammatik und Rechtschreibung noch mächtig bin. Andere in der Hinsicht zu kritisieren beherrsche ich nach wie vor sehr gut.
Die Thematik würde zwar in gewisser Weise zu Mobile Computing passen, aber nichts desto trotz auf Deutsch: Ich hasse die Art und Weise wie Windows Server 2003 (oder Windows NT generell) mit Datenträgern umgeht.
Und das sage ich nun bereits fast eine Woche nachdem ich feststellen musste, dass mein Windows Server 2003 eine halbvolle 500 GB Festplatte datentechnisch gesehen beinahe unbrauchbar gemacht hat und ich mir bereits eine neue Festplatte in Form einer 1TB Buffalo LinkStation zugelegt habe, welche auf Linux läuft, und ich bereits alle wichtigen Daten in Sicherheit gebracht habe vor diesem Monster, welches wir ahnungslos mit dem Namen "Windows" verharmlosen. Dies soll quasi demonstrieren mit welch unmessbar grenzenloser (sowohl unmessbar als auch grenzenlos) Wut ich bereits genannter Feststellung vor knapp einer Woche entgegengetreten bin. Ich habe aus gutem Grund mit einem Blog-Eintrag darüber auf mich warten lassen.
Besagtes Betriebssystem hat die Angewohnheit Daten nicht so auf die Festplatte zu schreiben wie sie dann auch reproduzierbar bleiben. Ich weiß allerdings nicht ob das bereits beim Abspeichern passiert oder erst später. Natürlich ist es außerdem möglich, dass das rein an der Festplatte liegt, welche ich nutze (eine Maxtor OneTouch 500 GB). Nichts desto trotz ist dies in meinen Augen inakzeptabel. Gerade ein Server-Betriebssystem muss die Erwartung erfüllen können Datensicherheit zu garantieren. Mehr als jeder andere Typ Betriebssystem.
Ich habe vor dieser 500GB Festplatte bereits eine 300 GB Maxtor Netzwerkfestplatte (so wie es die Buffalo LinkStation ist, sprich eine Festplatte mit eigenem Betriebssystem) besessen die ich nun schon etwa 4 Jahre benutze und seit Monaten im Dauerbetrieb. Diese läuft ebenfalls auf Linux und hat mich noch nie der Möglichkeit beraubt auf Daten zuzugreifen, welche ich irgendwann zuvor dort abgespeichert habe.
Das Fazit aus dieser Erfahrung soll sein, dass es für mich persönlich zwar noch immer absolut nicht in Frage kommt Linux als Applikations-Server zu verwenden, weil ich mich dazu einfach nicht gut genug unter Linux zurechtfinde, allerdings werde ich die Sicherheit meiner Daten von nun an nie wieder einem nicht UNIX-basierten Betriebssystem überlassen und ich würde keinem, der diesen Eintrag liest etwas anderes ans Herz legen.
jetzt bleibt mir nur noch allen einen schönen Start in die Woche zu wünschen…
0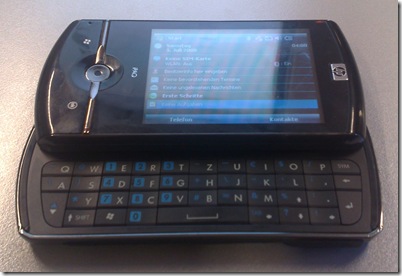 The Data Messenger from HP is their newest flag-ship in Pocket PC Technology. At the moment you can only buy it from their website for none less than 599€ or 440 British Pounds (including VAT) and I myself am pretty sure that this amount of money is not worth it yet to own this device. As with most other devices the price will most certainly be lower with retailers and of course with carrier plans as soon as they're introduced.
Why I wouldn't pay 599 for this device:
Although it has a very nice optical appearance, just like its little brother, it is just another Windows Mobile device with its own little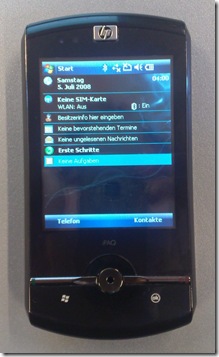 extras. Nothing really blew me away about the device. In Part 1 of  my review I promised to go into detail about the buttons and connectors on the side. On the left hand side you have (from top to bottom) a Lock-Button (which is just as complicated to operate with this device), 2 Volume Buttons and a Voice Dial/Command Button. On the right hand side you have (from top to bottom) the micro-USB connector, the 2.5mm audio out (read previous post for details) and the Snapshot-Button for taking photographs which worked better with this device. On Top of course you again have the Mute-Switch which was the first positive factor I recognized about both devices. And that's about it.
Furthermore the Screen has a very static and stale feel to it, especially when you operate it with the stylus. I'm used to having a Touch-Screen sink in when operating it with a stylus. It assures me that I just made a click.
The full QWERT-Keyboard seems quite OK concerning the layout. I didn't work too much with it since I assumed it would work just like you'd expect it to.
Conclusion:
So I assume that the previous iPAQ device of this category didn't lack any major feature of this one and I would just consider it a minor update to it. As soon as I see it for a reasonable price I might know some people I could suggest it to but not yet.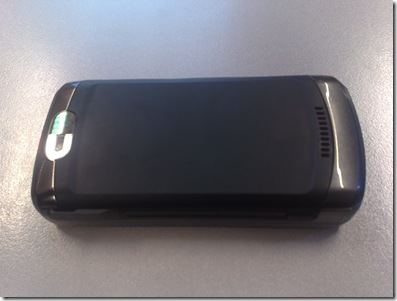 0
So I want to kick off my review with a short introduction to the devices and what they have in common. No personal opinion in this post.
The Voice Messenger (on the left in my last post) is a Smartphone in the shape of an ordinary mobile phone, so it is compact, yet with Windows Mobile it has a quite sophisticated Operating System on top of it for a rather small device.
The Data Messenger is a full-featured Pocket PC with a QUERT-Keyboard for landscape-operation and a touch-screen which can either be used with your finger or the included Stylus.
The things they have in common at first and second sight would be the following:
Both have the exact same Status-LED to the upper left of their screens.
The navigation is handled by a circular Hard-Button with a tiny Trackball in the middle.
The Buttons and connectors on the sides are the same. Read my next posts for details.
On top they have a Mute-Switch.
They both have a 3.1 Megapixel autofocus camera with LED-flash.
Furthermore you can of course see that they both have the same optical appearance concerning their enclosure and design.
Stay tuned some more for detailed Reviews of each device and a personal opinion. Hope I didn't miss any similarities.