Posts tagged
Logo
0
When I first saw the device I was pretty surprised by its slick design and the overall appearance. It's got everything you'd expect from a Smartphone with Windows Mobile on it but because I don't know too many details about past iPAQ devices it was very easy for me to point out a few flaws about this device.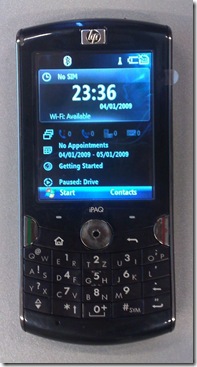 Things hardcore-iPAQ users might not be surprised by.
The Lock-System, in my eyes, is impossible to understand for someone who's new to this. I locked the device with the Lock-Button (see picture 2) and it always took me forever to unlock it again because what the screen told me to do wasn't understandable.
The Button for taking photographs was almost non-pressable. It did not move a bit. But I guess this wasn't the way it was supposed to be shipped.
Finding out that the 2 "Buttons" next to the iPAQ Logo (see right) are in fact buttons might be hard to find out for some. Because they are Touch-Sensitive and do not move at all.
Turning the old numeric-keyboard system upside down by having just a few more buttons and arrange the letters on them in a QUERT-Layout might be a risky idea by HP because although you have 2 letters on most buttons it does not make a difference if you push the left or right half of a button.
Just like the Data Messenger this device has a micro-USB connector for both data-synchronization and recharging, and it has a 2.5mm rather than a 3.5mm audio-out which I see as much market for as the audio-connector of the first iPhone which required a converter for connecting regular headphones. micro-USB might be a standard of the future which might seem annoying for now but 2.5mm audio has been around for ages and it just never caught on. Why should it do so now?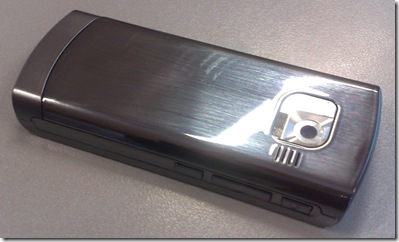 Conclusion:
Of course all I've been talking about now were negative factors of this mobile device. It sure has its upsides as well. If someone asked me whether to buy this device I would ask them what they were looking for. If you want to listen to music on your mobile phone this sure isn't the way to go. If you want your mobile phone to have a wide variety of installable programs and if you want it to look good this will surely do the job. Since I don't know any specific facts about the pricing I can't tell you how good your wallet might feel in the process of buying it.
The reason why I decided to concentrate on the negative aspects I experienced within 15 minutes of basic usage of the phone is because I think this is what others can get the most profit out of. If someone buys a device without knowing what he will be confronted with immediately after, they might turn out non-satisfied buyers.
For a Review of its big brother, the Data Messenger, stay tuned till tomorrow. I think I might go a little bit into more detail with this one since it's a more complex device.
0
A.S.:
Ohne jetzt erst mal lange um den heißen Brei herumzureden komme ich auch gleich zum Titel dieses Eintrags wenn ihr gestattet.

Die liebe Katrin und ich kamen gestern auf die Idee unsere Notebooks (Acer und Sony Vaio) einander zu versprechen – sprich sie heiraten zu lassen sobald Katrins Acer wieder aus der Reha zurück ist – und dazu mussten wir ihnen natürlich auch Namen geben bzw. wir haben ihnen Namen gegeben und sie folglich heiraten lassen.
Jedenfalls war meine usrsprüngliche Idee meinem neuen Laptop einen Namen zu geben weil mich noch nie ein elektronisches Gerät, das ich mir zugelegt habe so fasziniert hat. Also überlege ich so und verrückt wie ich bin lese ich da das VAIO Logo unter meinem LCD vom Laptop Rückwärts. — OIAV
"Olav" ist davon meiner Meinung nach nicht mehr weit entfernt und schon hatte ich einen Namen für meinen Laptop.
Als nächstes erzählte ich das Katrin und nach kurzer Diskussion über das Geschlecht ihres Laptops entschied ich mich vorerst für die weibliche Variante und wandte dieselbe Technik an, wie bei meinem Vaio.
ACER rückwärts gelesen ergibt nun mal RECA und was kann man daraus noch alles machen? Also für mich kam nur Rebecca in Frage und schon hatten wir zwei heiratsfähige Wunder der Technik.
Ein Nachname fehlte dann noch. Nachdem ich über den Namen nicht näher informiert bin und weiß, dass "Sony" von dem lateinischen "sonis" (= Klang) und dem englischen "sonny" (= fröhlicher Junge) kommt nahm ich einfach "Sonny". Interessanter Nachname finde ich.
S.:
Das Christkind war dieses Jahr wieder sehr gütig mit mir obwohl ich mir meinen größten Wunsch ja schon davor erfüllen konnte als sich eine Preiswerte Gelegeheit ergab (Sony Vaio TX 1 HP/W).
Ein wenig Skaten konnte ich gestern auch noch bevor wir zu meinen Verwandten fuhren mit meinen neuen Schuhen. Dort angekommen durfte ich die neue Playstation von meinem kleinen Cousin aufbauen, bei meiner Tante helfen, das Dolby Surround System zum Gehen zu bringen, was wir eh nicht schafften und das GPS System meines Onkels dazu zu bringen, das zu tun wozu es gemacht wurde. Selbiges liegt nun bei mir zu Hause und bis dato scheint eigentlich alles einwandfrei zu funktionieren.
Weiters machte ich heute eine tolle Erfahrung mit meinem Olav. Von sieben Uhr abends bis um 2 in der Nacht lief das gute Ding auf Akku inklusive aktivierte WLAN Elektronik und bei 7% Restakku angelangt wurden noch 27 Minuten Restlaufzeit angezeigt.
nun denn wünsche ich allen weiterhin schöne Ferien, ich werde mich wahrscheinlich heute noch für eine Zeit zu meinem Cousin vertschüssen, aber keine Angst, Internet gibt es auch im Josefstal.