Posts tagged
hand

0
Today for the first time I tried out the Google Trends Webpage for myself. First confrontation that came to mind was as obvious as it was surprising.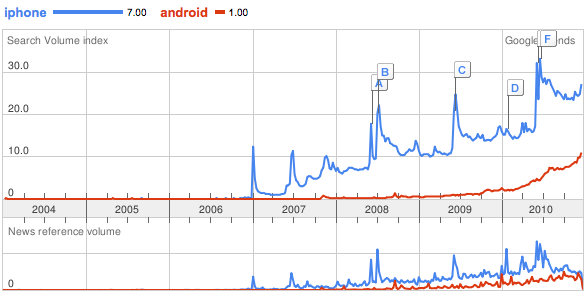 It somehow makes sense when actually it doesn't. Searches for "iPhone" since even before its release have never once been surpassed by those for "Android". Another fun-fact is that it seems like the lower blue Graph has some direct connections to the upper one. Whenever the News Reference Volume for "iPhone" increased heavily the Search Volume Index did the same with a certain delay. The significant timestamps marked in the upper Graph are the following.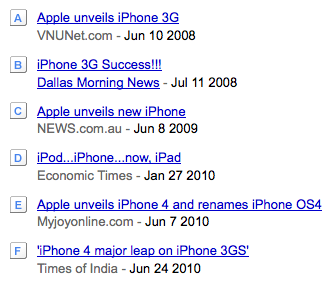 As we know the original iPhone has been presented in early 2007, has been released in mid 2007 (huge upward burst in searches) and "A"marks the release of its successor, the iPhone 3G. Android on the other hand has been bought by Google in 2005 and had its initial release in late 2008. This definitely hasn't been as much of a hit on Google Search.
Of course I'm not implying anything about the capabilities or limitations of those Subjects. I just wanted to share this because the Trends didn't even remotely compare the way i expected them to.
0
Once upon a while my Internet Service Provider who i am very dissatisfied with "decides" to pull the plug on my internet connection for no reason whatsoever for a little while. So knowing that I have a HSDPA USB Modem laying around with a 3GB monthly dataplan i thought i could install its Hutchison 3G software on my Windows Server 2003 to have a backup internet connection at hand.
After some restarts the software still wouldn't recognize the Modem so I thought I could run it in Compatibility-Mode for Windows XP. This resulted in the program window not showing up at all while it would make the "explorer.exe" stop responding entirely. When I killed the "3DataManager.exe" however this happened:
So this Flashlight we all know from the XP-days seems to try to catch up on all the CPU cycles it missed while the Data Manager was open. It stopped pretty soon afterwards though as you can see.
0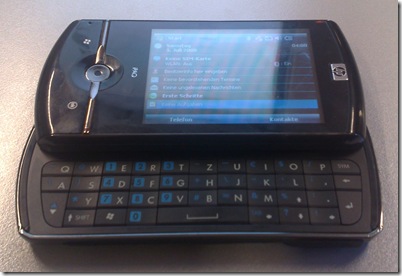 The Data Messenger from HP is their newest flag-ship in Pocket PC Technology. At the moment you can only buy it from their website for none less than 599€ or 440 British Pounds (including VAT) and I myself am pretty sure that this amount of money is not worth it yet to own this device. As with most other devices the price will most certainly be lower with retailers and of course with carrier plans as soon as they're introduced.
Why I wouldn't pay 599 for this device:
Although it has a very nice optical appearance, just like its little brother, it is just another Windows Mobile device with its own little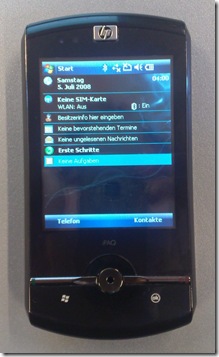 extras. Nothing really blew me away about the device. In Part 1 of  my review I promised to go into detail about the buttons and connectors on the side. On the left hand side you have (from top to bottom) a Lock-Button (which is just as complicated to operate with this device), 2 Volume Buttons and a Voice Dial/Command Button. On the right hand side you have (from top to bottom) the micro-USB connector, the 2.5mm audio out (read previous post for details) and the Snapshot-Button for taking photographs which worked better with this device. On Top of course you again have the Mute-Switch which was the first positive factor I recognized about both devices. And that's about it.
Furthermore the Screen has a very static and stale feel to it, especially when you operate it with the stylus. I'm used to having a Touch-Screen sink in when operating it with a stylus. It assures me that I just made a click.
The full QWERT-Keyboard seems quite OK concerning the layout. I didn't work too much with it since I assumed it would work just like you'd expect it to.
Conclusion:
So I assume that the previous iPAQ device of this category didn't lack any major feature of this one and I would just consider it a minor update to it. As soon as I see it for a reasonable price I might know some people I could suggest it to but not yet.