Posts tagged
blog
0
Without finding nor providing an excuse for my absence around here I think I have gathered enough things to talk about to fill a blog entry once again after some weeks of hard work on multiple school projects.

Yesterday I came to the realization that I don't even have to buy any additional hardware in order to be able to use the Time Machine feature of my MacBook. Since I bought my Network Attached Storage I had a 500GB USB Storage laying around with nothing to do. At first I tried to modify Time Machine in order to be able to use it as a Network Storage although it isn't a Time Capsule from Apple. After a variety of weird Error Messages (which seem to be one of the reasons why Apple only supports their own Time Capsules) I decided to connect it via USB.
It works like a charm. Time Machine backs up to this Storage hourly whenever it is connected while the MacBook is not on battery operation. It keeps those hourly backups for the last 24 hours and lowers them to daily updates for the last 7 days accordingly. Furthermore it keeps weekly updates of my files until there is no storage left. So to retrieve a lost file or file-state one opens a Finder (=Explorer) Window and directs it to where you once had your file the way you want it to have now. You launch Time Machine and it takes the Finder Window on a journey to the past. You specify the Date you want to go back to and the contents of the Window will change to what they have been like at that time.
So whenever my MacBook is connected to the Storage those backups will be made regularly and I can make those journeys to the past.
To switch to another topic, something I wanted to talk about in my Blog for a long time now is how satisfied I am with the way the new Multi-Touch Trackpads from Apple work.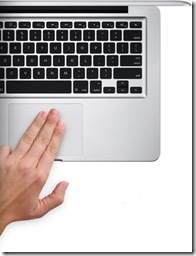 Since the introduction of the Multi-Touch concept by Apple with the iPhone this has proven to be a hit among customers looking for ways to interact with their hardware more intuitively. And it has proven my conviction wrong that touch-pads cannot be a tool for a serious workflow on a mobile computer.
With this Trackpad I do not feel the need of grabbing a hold of my Mouse on every occasion.
I do not feel hindered by technology when working with it. It has size and it doesn't recognize the accidental touch as a click like many others do and it does not have a dedicated Click-Button since it itself is the button which you can press down on which I think is way more intuitive than having your own click-button when most people just want to click on the touchpad itself anyways.
Whenever someone uses it for the first time they stumble across the problem that clicking and holding down on the Trackpad while dragging a scrollbar across the screen can be rather annoying. What they do not know of course is that its primary intent isn't that at all. Since it can receive multiple inputs you can for example right-click when clicking with two fingers or scroll while sliding across with two fingers. In supported applications the possibilities are even higher in number. You can pinch and zoom in iPhoto. You can use a 4-finger swipe to get to your desktop or to Exposé (a grid of all open windows). You can use 3 fingers to go through an iPhoto Album.
Of course every application can implement their own functionalities for these, which means that sooner or later there will be even more advantages for users of this Trackpad since they are now being built into every mobile Mac Apple ships.
So this entry has been very Apple-based but this should just go to show that although I believe to be very critical of what companies like Apple do these days (because I absolutely don't think their philosophy is better than anyone else's) I can't help being astonished by their way of thinking once in a while.
Have a nice weekend