Posts tagged
appearance
0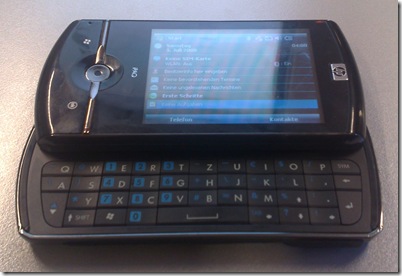 The Data Messenger from HP is their newest flag-ship in Pocket PC Technology. At the moment you can only buy it from their website for none less than 599€ or 440 British Pounds (including VAT) and I myself am pretty sure that this amount of money is not worth it yet to own this device. As with most other devices the price will most certainly be lower with retailers and of course with carrier plans as soon as they're introduced.
Why I wouldn't pay 599 for this device:
Although it has a very nice optical appearance, just like its little brother, it is just another Windows Mobile device with its own little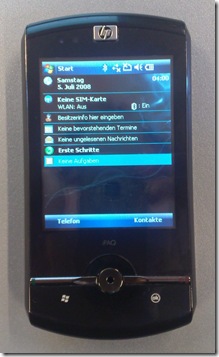 extras. Nothing really blew me away about the device. In Part 1 of  my review I promised to go into detail about the buttons and connectors on the side. On the left hand side you have (from top to bottom) a Lock-Button (which is just as complicated to operate with this device), 2 Volume Buttons and a Voice Dial/Command Button. On the right hand side you have (from top to bottom) the micro-USB connector, the 2.5mm audio out (read previous post for details) and the Snapshot-Button for taking photographs which worked better with this device. On Top of course you again have the Mute-Switch which was the first positive factor I recognized about both devices. And that's about it.
Furthermore the Screen has a very static and stale feel to it, especially when you operate it with the stylus. I'm used to having a Touch-Screen sink in when operating it with a stylus. It assures me that I just made a click.
The full QWERT-Keyboard seems quite OK concerning the layout. I didn't work too much with it since I assumed it would work just like you'd expect it to.
Conclusion:
So I assume that the previous iPAQ device of this category didn't lack any major feature of this one and I would just consider it a minor update to it. As soon as I see it for a reasonable price I might know some people I could suggest it to but not yet.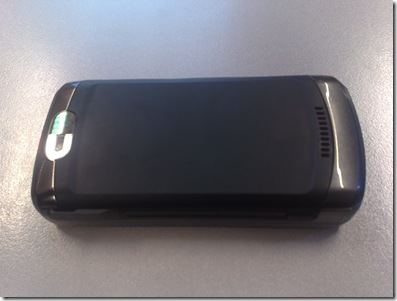 0
When I first saw the device I was pretty surprised by its slick design and the overall appearance. It's got everything you'd expect from a Smartphone with Windows Mobile on it but because I don't know too many details about past iPAQ devices it was very easy for me to point out a few flaws about this device.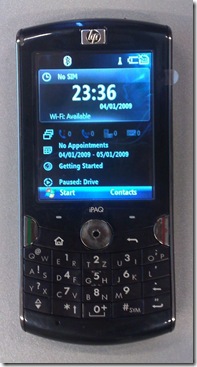 Things hardcore-iPAQ users might not be surprised by.
The Lock-System, in my eyes, is impossible to understand for someone who's new to this. I locked the device with the Lock-Button (see picture 2) and it always took me forever to unlock it again because what the screen told me to do wasn't understandable.
The Button for taking photographs was almost non-pressable. It did not move a bit. But I guess this wasn't the way it was supposed to be shipped.
Finding out that the 2 "Buttons" next to the iPAQ Logo (see right) are in fact buttons might be hard to find out for some. Because they are Touch-Sensitive and do not move at all.
Turning the old numeric-keyboard system upside down by having just a few more buttons and arrange the letters on them in a QUERT-Layout might be a risky idea by HP because although you have 2 letters on most buttons it does not make a difference if you push the left or right half of a button.
Just like the Data Messenger this device has a micro-USB connector for both data-synchronization and recharging, and it has a 2.5mm rather than a 3.5mm audio-out which I see as much market for as the audio-connector of the first iPhone which required a converter for connecting regular headphones. micro-USB might be a standard of the future which might seem annoying for now but 2.5mm audio has been around for ages and it just never caught on. Why should it do so now?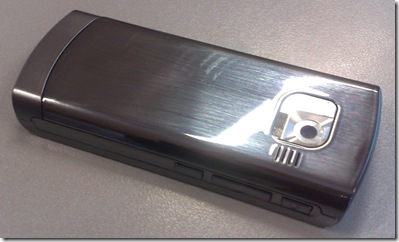 Conclusion:
Of course all I've been talking about now were negative factors of this mobile device. It sure has its upsides as well. If someone asked me whether to buy this device I would ask them what they were looking for. If you want to listen to music on your mobile phone this sure isn't the way to go. If you want your mobile phone to have a wide variety of installable programs and if you want it to look good this will surely do the job. Since I don't know any specific facts about the pricing I can't tell you how good your wallet might feel in the process of buying it.
The reason why I decided to concentrate on the negative aspects I experienced within 15 minutes of basic usage of the phone is because I think this is what others can get the most profit out of. If someone buys a device without knowing what he will be confronted with immediately after, they might turn out non-satisfied buyers.
For a Review of its big brother, the Data Messenger, stay tuned till tomorrow. I think I might go a little bit into more detail with this one since it's a more complex device.