Posts tagged
Android
0
When the iPad was released, tech journalists were quick to worship it. Wired went so far as to write a front-page article claiming that tablets would change the world. While it was not about the iPad only, it was obviously inspired by the upcoming release of Apple's device.
Now, a year and a half later, it appears the revolution has been one-sided. Recent figures show that only 6 million Android tablets have been sold, a slender figure compared to Apple's sales of 40 million iPads. Let's have a look at why Android has yet to catch on.
0
Apps, die auf keinem Android-Handy fehlen sollten, und Hardware-Tipps
Es gibt eine Vielzahl an Android-Geräten, doch noch viel mehr Apps. Der Android Market holt gegenüber Apple auf und verfügt jüngsten Meldungen zufolge bereits über 200.000 Anwendungen. Technik-Blog Engadget zeigt Nutzern welche Apps sich auf jedem Android-Smartphone wiederfinden müssen und was es für Android-Neulinge sonst noch zu wissen gibt.

0
Today for the first time I tried out the Google Trends Webpage for myself. First confrontation that came to mind was as obvious as it was surprising.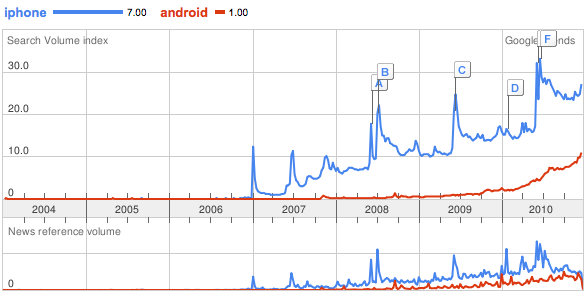 It somehow makes sense when actually it doesn't. Searches for "iPhone" since even before its release have never once been surpassed by those for "Android". Another fun-fact is that it seems like the lower blue Graph has some direct connections to the upper one. Whenever the News Reference Volume for "iPhone" increased heavily the Search Volume Index did the same with a certain delay. The significant timestamps marked in the upper Graph are the following.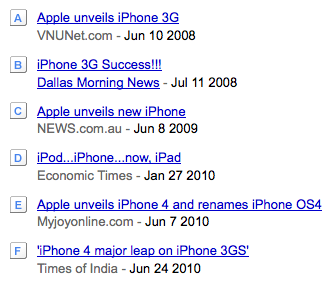 As we know the original iPhone has been presented in early 2007, has been released in mid 2007 (huge upward burst in searches) and "A"marks the release of its successor, the iPhone 3G. Android on the other hand has been bought by Google in 2005 and had its initial release in late 2008. This definitely hasn't been as much of a hit on Google Search.
Of course I'm not implying anything about the capabilities or limitations of those Subjects. I just wanted to share this because the Trends didn't even remotely compare the way i expected them to.